Cugelj PVC simple front door profile
Cugelj PVC simple front doors have PVC VEKA SOFTLINE 82 MD profiles with a thickness of 82 mm.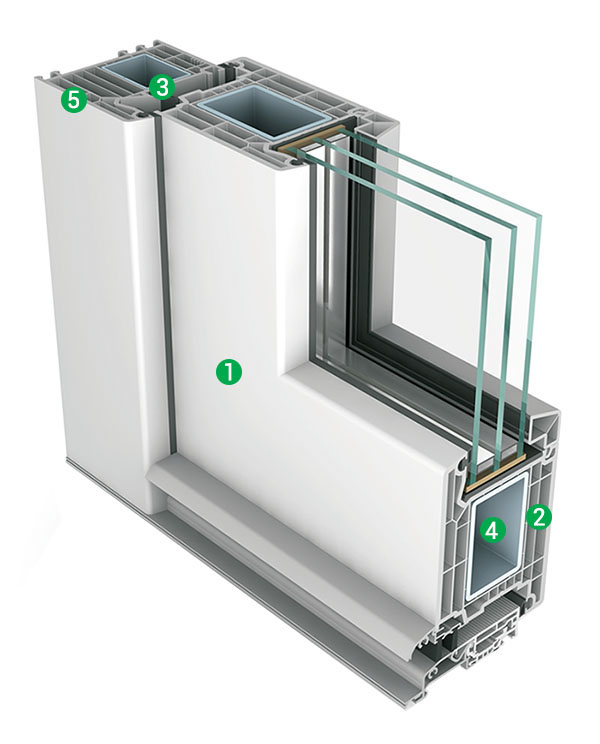 1. An innovative profile, also suitable for passive construction.
2. The best thermal insulation up to Ud = 0,91 W / m²K, depends on the glass choice
3. Triple sealing for better sound and thermal insulation (EPDM seals)
4. Profiles reinforced with square steel reinforcement, which ensures stability and long-term functionality.
All of our doors are equipped with ROTO anti-theft protection.
5. Seven-chamber profiles with an 82 mm installation depth.
Exterior wall thickness (3 mm) according to the highest standard – Class A
Cugelj doors offer a wide range of highly insulated and robust doors that meet modern requirements in terms of safety, thermal insulation and stability. Cugelj doors are designed to meet modern requirements for comfort.
Do you need more information?
For more information about the Veka Softline 82 MD profile, download the PDF format catalogue.
Connect with us
If you value your time and money and want quality products, we at Cugelj are the right choice for you!
Showroom & company head office
Stantetova 10, 1295 Ivančna Gorica
T: +386 1 78 78 535
F: +386 1 78 07 868
G: +386 40 840 069
E: info@cugelj.si